The Central Board of Secondary Education (CBSE) is the most popular board in India
The CBSE follows the National Curriculum Framework which is the basis for all entrance examinations to universities in India. The focus of the CBSE recently has shifted towards more conceptual understanding and application of concepts learned.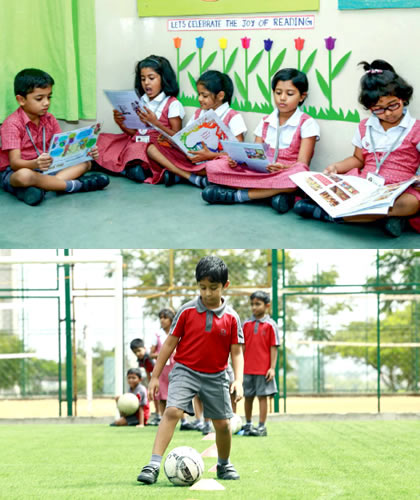 Levels I to III
The focus is on learning through experiments and activities.
Story telling workshops and dedicated book reading programmes inculcate regular reading habits.
A wide range of co-curricular activities are integrated into the schedule and all activities are compulsory.
Children participate regularly in competitions.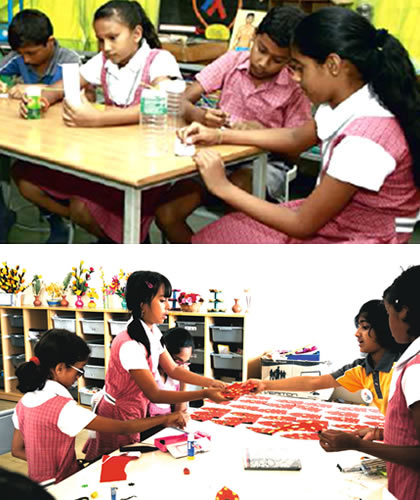 Levels IV and V
The focus is on learning through experiments, activities, debate and teamwork.
Students have greater choice of co-curricular activities and club activities.
Students are placed in one of 4 houses – Prithvi, Agni, Vayu or Akash.
Students can elect to participate in the After School Sports (AFS) program.
Class IV is when students move to the system of formal examinations.
One day a month is dedicated for competitions.
Levels VI to VIII
The curriculum becomes more challenging with the requirement to learn more abstract concepts.
Multi-media in the form of videos & presentations are used more often.
Learning Management Systems are used more often with online exercises.
Students are free to select from a range of co-curricular activities and clubs based on their area of interest.
French and Spoken Hindi are available for optional learning.
Students interact more with the external world and form opinions.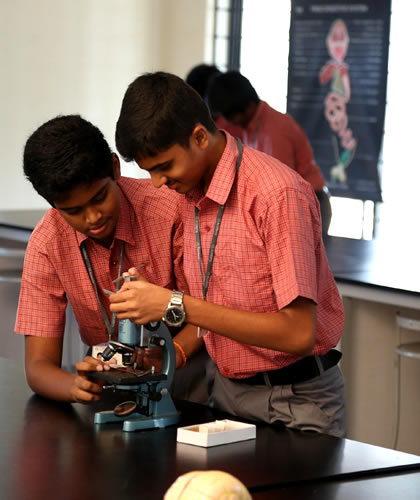 Levels IX to XII
Students start preparing for their entry into university.
Career counseling programme starts from grade IX
Allocation of groups is dependent on performance in grade X, an assessment test and an interview.
Dedicated laboratory facilities for Computer Science, Physics, Chemistry, Mathematics and Biology are provided.
Integrated competitive exam coaching for all major entrance examinations.
Students take leadership positions.
Students select from a wide range of subject options including English, Mathematics, Physics, Chemistry, Biology, Computer Science, Accountancy, Commerce, Business Studies, Entrepreneurship and Psychology.