Kindergarten at CS is fun combined with a focus on learning new skills
The KG years are the listening and talking years at CS. While children have fun coming to school, they also are challenged to learn new skills. A variety of methodologies drawn from different disciplines including phonics, play way and Montessori are used to ensure children are motivated to learn. Small class sizes of around 20 students and support from assistant teachers for every class, ensures personal attention for every student.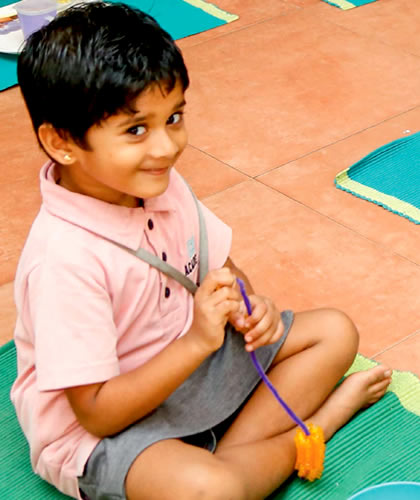 PKG
PKG is the first year of formal entry into CS Academy.
The focus is on learning to socialize with peers and become independent.
The child can observe and assimilate a huge volume of stimuli at this age and needs to be nourished.
Our program combines structured play time with developing language skills, peer interaction and building confidence.
The typical Pre KG classroom has 20-22 children with a teacher and an assistant teacher.
LKG & UKG
LKG is the listening and talking year at CS. The main focus is on developing essential language skills of listening and speaking.
Our phonics program and accelerated English program helps develop English language skills with a solid foundation.
We do not expect children to start writing at the beginning of KG.
UKG is when our kids graduate to writing and a higher order of complexity in activities.
Field trips, study trips, outdoor play and dedicated activity rooms to help children develop gross and fine motor skills are all a part of the KG program.